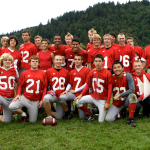 Kids Like to Win, Adults Need to Win – A Coach's Perspective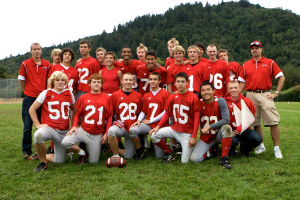 I've been lucky enough to coach a variety of junior high and high school sports, thanks mostly to my herd of children going through various sports programs. When I saw a recent article from the CIF (California Interscholastic Federation), the title perked my interest.
Before I go further, we must first understand that at the professional sports level, it's all about winning. The pursuit of winning is what pays the paychecks for the professionals whose job it is to play the game for the owners and fans…and advertisers. Winners get famous. Winners get paid to wear a specific brand of clothing, use specific equipment, and get higher-paying contracts because their ability to win brings in more money for the owners. Losers get paid less and eventually get cut to go find a job out of the limelight. Professional sports are a business. They have to be in order to sustain itself.
We can wear a replica of the team jersey, recite all of the team's statistics, or give the best advice from the comfort of our armchair, but there is no way that the coach is going to call any of us down from the stands to help score the winning points! We haven't paid the price of practice and preparation to participate in the show.
At the entry level of sports, it's a fact that only a very small percentage of high school athletes will ever play on a sports team at the college level. And of those who play in college, only an extremely small fraction will ever get signed to a professional team. That's why everyone is pushing those college athletes to get serious about hitting the books, because when they leave college, the vast majority of those college athletes will be officially retired from sports, and they will need jobs.
Some would say, so why bother playing at all? As a coach, I know that the value of high school sports is the value of the unique lessons that can't be learned as well in the classroom. Having fun in a safe environment is a major benefit of athletics. But learning about true teamwork and learning to give everything you've got in order to help someone else on your team score, is priceless. Learning to train and compete with full commitment to yourself and your teammates, with honor and valor, will carry on in life. Coaches that teach life lessons and don't allow huge egos, showboating, whining, or cheating, are helping shape children for success in life.
Sports are fun. Children like sports because the experience, with quality coaching and parenting, is fun. Yes, all children like to win. It is fun to win. However, most children also think it's fun to be a part of the experience, even if it does not result in winning.
So what is it with these coaches and adults that need to win? During games, I've seen coaches scream in sincerely violent anger, complete with antics of throwing things and cursing at their own players and the blind referees who are all trying to "ensure" that the team loses. I've seen parents yell in anger at their own children, and other children, because mistakes were made, or miracle feats of athleticism were not accomplished. Some children start to mirror these attitudes. When this happens, they are all monsters, threatening the joy of everyone around them (even if they win). I've seen child athletes cry, clench their fists, and hate the sport (or adult) they thoroughly loved a few moments before. Do we, as adults (coaches and parents), need to live out our ambitions through our children? It's time to grow up.
SO WHAT DOES THIS HAVE TO DO WITH OWNING OR STARTING A BUSINESS?
Let's summarize some of the points above and apply them to business:
In order to make money, you must be a professional. Professionals need to win in order to keep playing. Yep, once your business gets off the ground, it must eventually be successful at making money if you want to keep playing.
Not everyone is able to turn something that they have fun doing, into a professional business. The majority of businesses fail within a few years. The odds are not nearly as bad as the chances of a high schooler eventually playing professional sports, but it is still scary.
By practicing your skills, learning new techniques from quality coaches, and working towards a higher goal, you will not only feel good about what you are doing, but you can significantly increase your chances to be successful.
People who need to win, sometimes become monsters in the process. This need can stem from ego, greed, financial struggles, or something to prove. This opens the door to ethical issues, cheating, losing friends and customers, lawsuits, and serious penalties.
Those who are careful and purposeful, who study and prepare, are likely to love the journey by finding success in a way that is exciting, fun, and very fulfilling.
There is joy in the journey. There are quality business consultants out there who can help you navigate the process. Don't let yourself become a monster in the process of becoming an entrepreneur. Losing yourself to the need to make money isn't worth the price.